The currency markets have been buzzing with activity, with the EURAUD pair reaching the top of its channel. Meanwhile, investors are anticipating a strengthening of the Yen against the Swiss Franc and Euro.
These developments are likely to have significant implications for traders and investors, as they navigate the shifting dynamics of the forex market. In this article, we will delve into the factors driving these trends, examine the potential outcomes, and provide insights on how market participants can position themselves to capitalize on these opportunities.
The CHFJPY Performance
CHFJPY is forming a new descending structure.
CHFJPY recently rejected the resistance zone around 143.860. This comes after an aggressive drop from the trendlines. This price action indicates the start of a new trend to the downside and traders would want to look for trading opportunities. As such, traders are waiting for a retracement to further confirm more bearish momentum.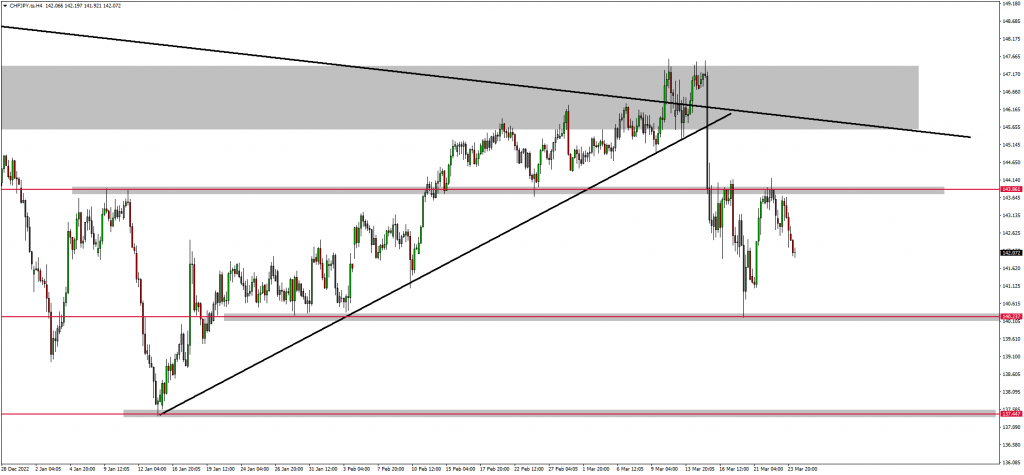 The EURAUD Performance
EURAUD is trading at the top of the channel.
EURAUD is about to complete a 5-wave impulse structure and start a push to the downside according to the Elliot wave theory. This is in confluence with the resistance zone around 1.61810 as well as the top of the channel where traders have been selling in the past.
An aggressive drop from these levels will confirm the start of the next bearish structure back to the ascending trendline. As such, traders are looking for bearish trading opportunities.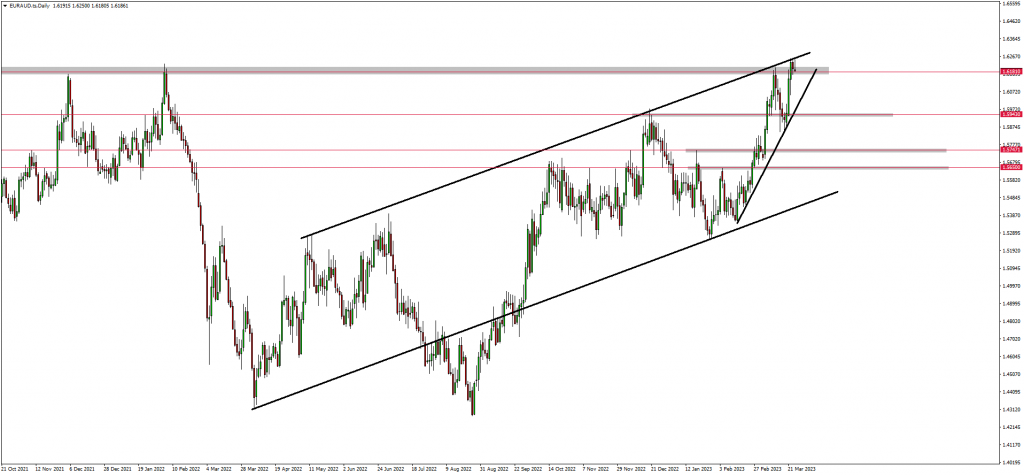 Read More: CADCHF And NZDCAD Complete Bearish Setups
The EURJPY Performance
EURJPY is forming a bearish impulse wave.
EURJPY recently rejected the resistance zone around 142.780 as well as the ascending trendline. This price action created a lower high around this zone which confirms that a bearish market structure is forming. Traders expect a drop back to the support zone around 138.800 and ultimately a break below. As such, a retest of the minor resistance zone will drop prices more to the downside.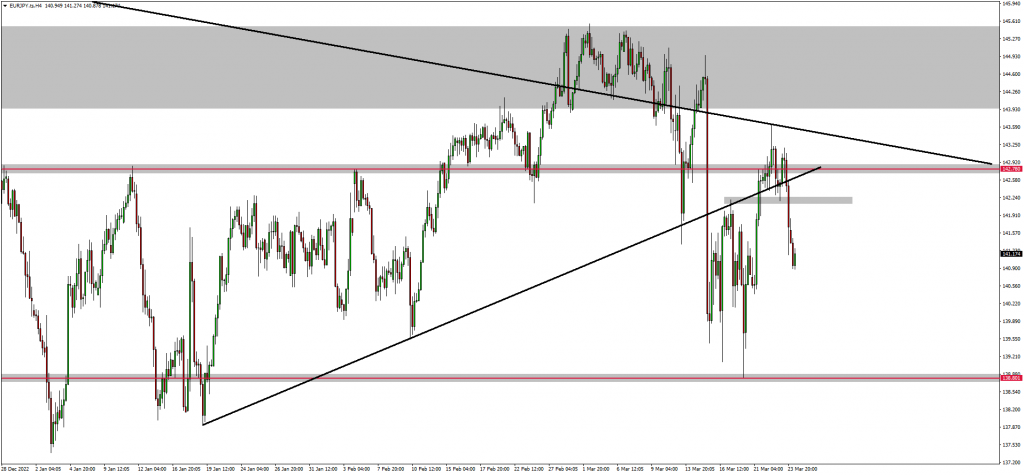 Final thoughts on today's analysis
In conclusion, the EURAUD pair's ascent to the top of its channel and the anticipation of Yen's strength against the Swiss Franc and Euro signal a potentially exciting time for forex traders and investors. While the drivers of these trends are complex and multifaceted, astute market participants will be able to identify opportunities to position themselves for potential gains.
Whether through technical analysis, fundamental analysis, or a combination of both, it will be critical to stay abreast of market developments. We also help adjust trading strategies accordingly. With careful attention to market signals traders can capitalise on these opportunities and achieve success in the dynamic world of forex trading.